Wednesday, September 30, 2020 19:37 UTC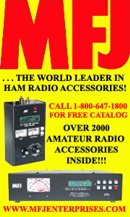 MFJ Enterprises

Welcome New User
YB6EAB
ALI AKBAR from INDONESIA
Site News
| If you have a new callsign, DO NOT keep uploading logs with the new call... (more)
Last Heard
40M: M6KQZ, SP6IHE, more...
Latest eAwards
Most eAwards: EA3ZD,4Z4DX,F6ECI,ZL1BQD,IK5FKF...

Power Users: AA3B,N2BJ,N3RS...
Latest Authenticity Guaranteed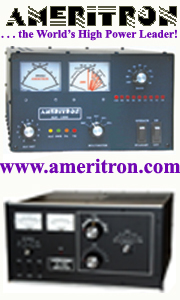 Ameritron - The worlds high power leader

Community
Charter Members: AF4LL,EA1BPO,EA7CN...
Earliest QSOs in the database
Some of our members' ancient QSL card collections!
Advertising Opportunities
If you have a ham radio oriented business, take a look at our advertising opportunities!
Amateur Radio Products
Shop Online for amateur radio books and other items! More...
Zip Codes - Free zip code lookup and zip code database download.
Special Dayton 2008 Donors
5P5A
AB9PD
AC0HD
AF1E
AK9I
AL1G
BU2AQ
BV1EK
DB1BKA
DB6ZU
DC1TJH
DD7IB
DG7LAE
DL1VFR
DL2HRK
DO1LMM
EI2JD
EI4CF
F8VZ
G0CER
G0NCE
G1HWY
G1TAY
G8FYH
GI8HXY
GM0FTK
GM0FTK
HB9FAX
HI8HH
HK4ECG
JE1QCL
JH1OBS
K0ADE
K1CPD
K1HEL
K2GER
K2LZQ
K4BRU
K4CQW
K5GV
K5KV
K5MEF
K8IY
K9KDS
KA9LJW
KB0BK
KB8VPJ
KD6Y
KE4U
KE5FXE
KE5LWF
KM3D
LA1ONA
LA5YJ
LA9NM
M0WAY
MM0EAX
MM0SJH
N1KR
N2VEA
N5JED
N6IEF
N7EDN
N7UF
N8DUS
N8HOQ
ND6S
NG1F
NL10133
NO0B
NU5K
OE3UKW
OK1AMF
ON4KDE
ON4NL
OP8Y
OX3UR
PA5KT
RA3DN
RN3AHL
S57XX
SM7ZDC
UN1L
UN1L
VA2HAM
VA6JB
VE7XH
VK5ARD
W0RIC
W1CRO
W1IPS
W2YC
W4OM
W4WCR
W6RS
W7BV
W8SAX
WA1OUI
WA6MOI
WL7UQ
WQ5O
YO4RDJ



10 Years of Electronic QSLs
Electronic QSL Card Centre: 1998 to 2008
Our first generation web site was launched on May 14, 1998. Within a few months, a die-hard group of early adopters had already begun spreading the word, and we registered our first thousand members.

In 2000, the technology was available to convert the system from one based on sequential files to one using a real database. And it's a good thing, because we jumped from 100,000 up to 1 million eQSLs in our database that year, and our membership stood at over 7,000.

Not much more than a year later, we were already at 10 million eQSLs and over 30,000 members. By 2006, we crossed the 100,000 member mark.

And on New Year's Eve 2007/2008 we had more than 122,000 members and over 92 million eQSLs in our database. eQSL.cc is still growing exponentially, currently adding about 50 new members every day and 2,500 new eQSLs every HOUR. In January 2008 there were over 6 Gigabytes of eQSL graphics, and over 33 Gigabytes of log data in our online database.
Dayton Hamvention Celebration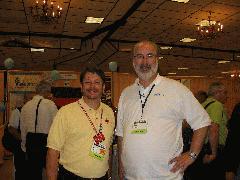 Dave has a nice chat with the president of ARRL

Events at Dayton
In celebration of our 10th anniversary, we are planning to attend Hamvention 2008 in Dayton Ohio, May 16, 17, and 18. Stay tuned to this page where we will publish the details:
View some photos and video clips of our Dayton Hamvention 2008 trip. We will have some video clips shot on Saturday after we edit them later in the week.
Dave flies to Dayton May 13th and begins setup of our booth on Thursday
On Friday from 9am to 6pm we had good traffic at our booth. It was split about 50/50 between people who were not registered, and people who didn't think they were registered but actually were! Well, I suppose there were some who were not yet registered, and we would show them all the hundreds of eQSLs they had waiting for them, and they promised to register as soon as they got home.
On Saturday, Dave was able to meet up again with someone he used to know while in college in 1974, Joel Harrison, the president of ARRL. (follow link above to photos) He also met with Dave Patton and discussed the possibility of some further collaboration between ARRL and eQSL.cc in the areas of sharing eQSLs.
We had about the same large amount of traffic on Saturday as we did on Friday. The exhibit hall was open from 9am to 5pm. We would like to thank all the new Bronze members who made a donation at the booth. If you are a new Bronze member, make sure to check out all the new features that are now available to you, such as eAwards, nicer eQSL designs, etc.
On Sunday we still had good traffic, but not nearly as much. The exhibits were open from 9am to 1pm. We met with Jon Bloom, the programmer at ARRL who is responsible for Logbook of the World, and had a nice chat with him about some of the things we would like to do.
Completely new Server Farm
We are running on a new server farm
On January 20th, we moved everything off the one server we had been using for the past 4 years, and onto 2 new servers. The new server farm separates the database engine from the rest of the application and mail server processing. Our new database, which at 93 million eQSLs had already grown to 33 Gigabytes, now has 500 Gigabytes of space into which it can grow. The processors on our servers are dual-core Conroe processors with 4 GB of RAM. We are now running Windows Server 2003, MailEnable, Coldfusion 8, and SQL Server 2005. The 2 new servers are in the same data center as our old server, but in a new wing which is completely off-limits to any visitors, and has the highest security possible. A Network Operations Center monitors everything going on in the two servers, and firewalls look out for Denial-Of-Service attacks and other hackers. We have a third-party off-site monitoring system set up that will alert N5UP immediately if either of the servers fails to respond. And hired the services of HackerSafe during the first half of 2008 to probe our systems for any possible entry points for hacking attacks. Later in 2008 we retained TrustWave do perform even more intensive vulnerability tests and to certify our compliance with credit card standards.